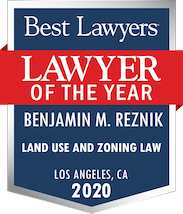 As Chair of the Firm's Government, Land Use, Environment and Energy Department, and head of its Legal Cannabis Practice Group, Benjamin (Ben) Reznik's practice emphasizes real estate development entitlements, zoning and environment issues, including frequent appearances before city planning commissions, city councils and other governmental boards and agencies on behalf of real estate development firms and various industries. Ben leads a group of distinguished attorneys that specialize in CEQA and NEPA, air emissions, energy, licensing, government contracts, and regulatory issues, to name a few.
Ben, who has been lead counsel in high-profile projects for clients including G.H. Palmer, Kilroy, Candy & Candy, Decron Management Corp., and The Clarett Group, was described in 2010 as "the most powerful lobbyist in LA" by Curbed LA, Los Angeles' most respected, widely-read real estate and land use blog.
Profiled in the Los Angeles Business Journal
Selected by the Daily Journal as one of California's "Top 100" Lawyers in 2010 and 2017.
Featured in over fifty Los Angeles Times articles
Sample Projects
Argued before the California Supreme Court as the lead attorney in Landgate, Inc. v. California Coastal Commission, 17 Cal. 4th 1006 (1998) (a landmark decision impacting rights of property owners to sue governmental agencies for damages incurred by delays in the permitting process)
Represented Mitsubishi Corporation in siting of Liquefied Natural Gas (LNG) receiving terminal and regassification facility in Southern California
Represented The Clarett Group in obtaining entitlements for 1 million square feet mixed-use project in Hollywood adjacent to the Pantages Theater
Represented G. H. Palmer Associates in obtaining entitlements for over 3,000 apartments in downtown Los Angeles (The Medici; The Visconti; The Orsini; The Piero)
Represented Candy & Candy and Project Lotus in obtaining entitlements for high end luxury condo project in Beverly Hills, CA known as 9900 Wilshire
Represent Trammel Crow Company/Multi-Employer Pension Trust (MEPT) in obtaining development entitlements for large commercial office campus in west San Fernando Valley known as West Hills Corporate Pointe
Represented Hudson News and Magic Johnson Enterprises in obtaining retail concession at Los Angeles International Airport (2010)
Since joining JMBM in 1997, obtained project approvals for several million square feet of commercial and several thousand units of residential valued in excess of $50 billion.
Recipient of Commendations from:
The U.S. House of Representatives
California State Assembly
California Attorney General
Los Angeles Board of Supervisors
Los Angeles City Council
Los Angeles City Attorney
Education
J.D., University of Southern California Gould School of Law, 1976
B.A., University of California, Los Angeles, 1973
Jurisdictions Admitted to Practice State Bar of California

Awards & Recognition
Received the AV Preeminent® rating by Martindale-Hubbell®
Listed, Los Angeles Magazine's Southern California Super Lawyer, 2009-2023
Named one of California's Top 100 Lawyers in 2010 and 2017 by the Daily Journal
Best Lawyers in America® 2013-2024, named 2020 "Lawyer of the Year"
Videos
Jewish World Watch - Benjamin Reznik Congratulated by Los Angeles Mayor Eric Garcetti