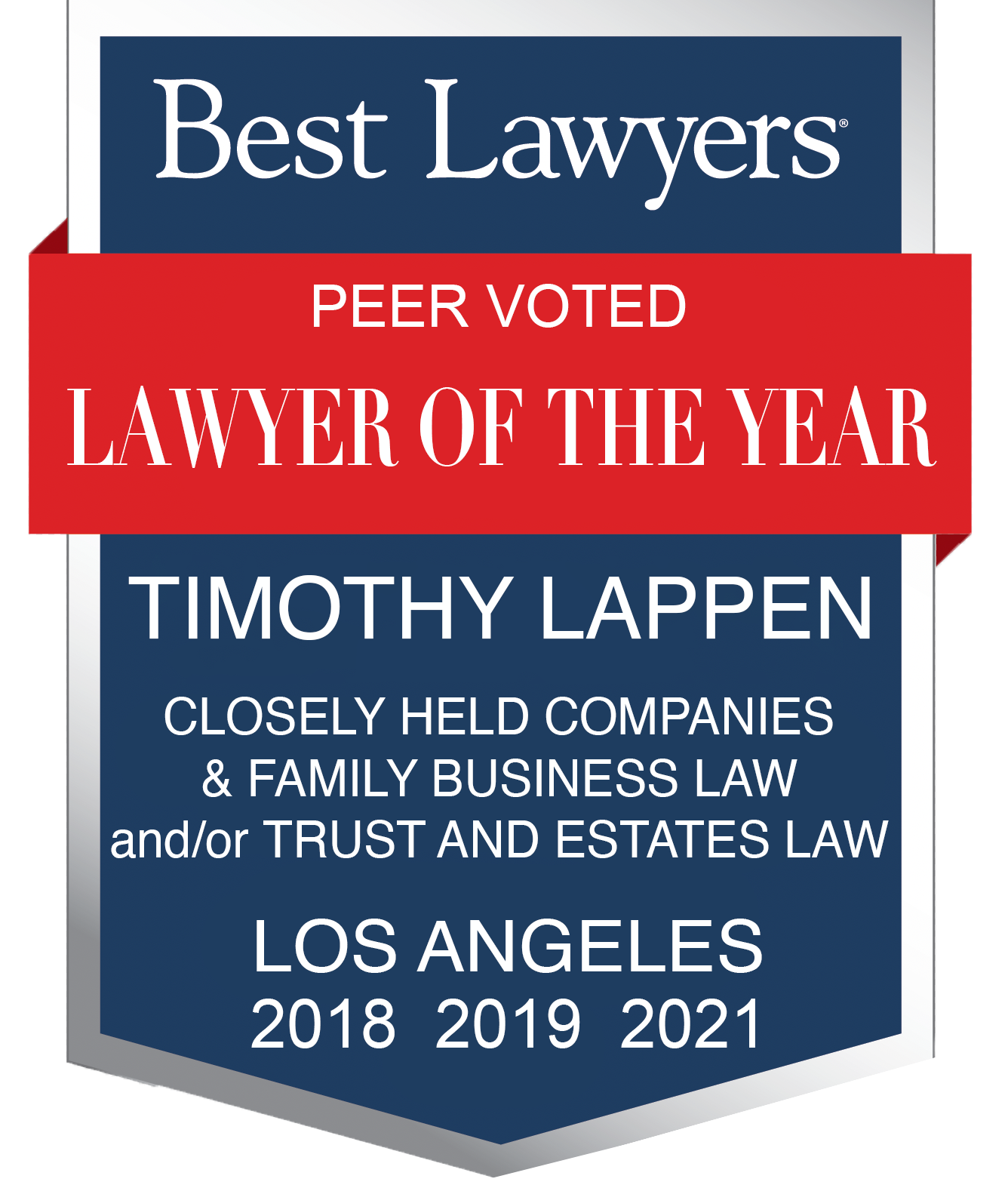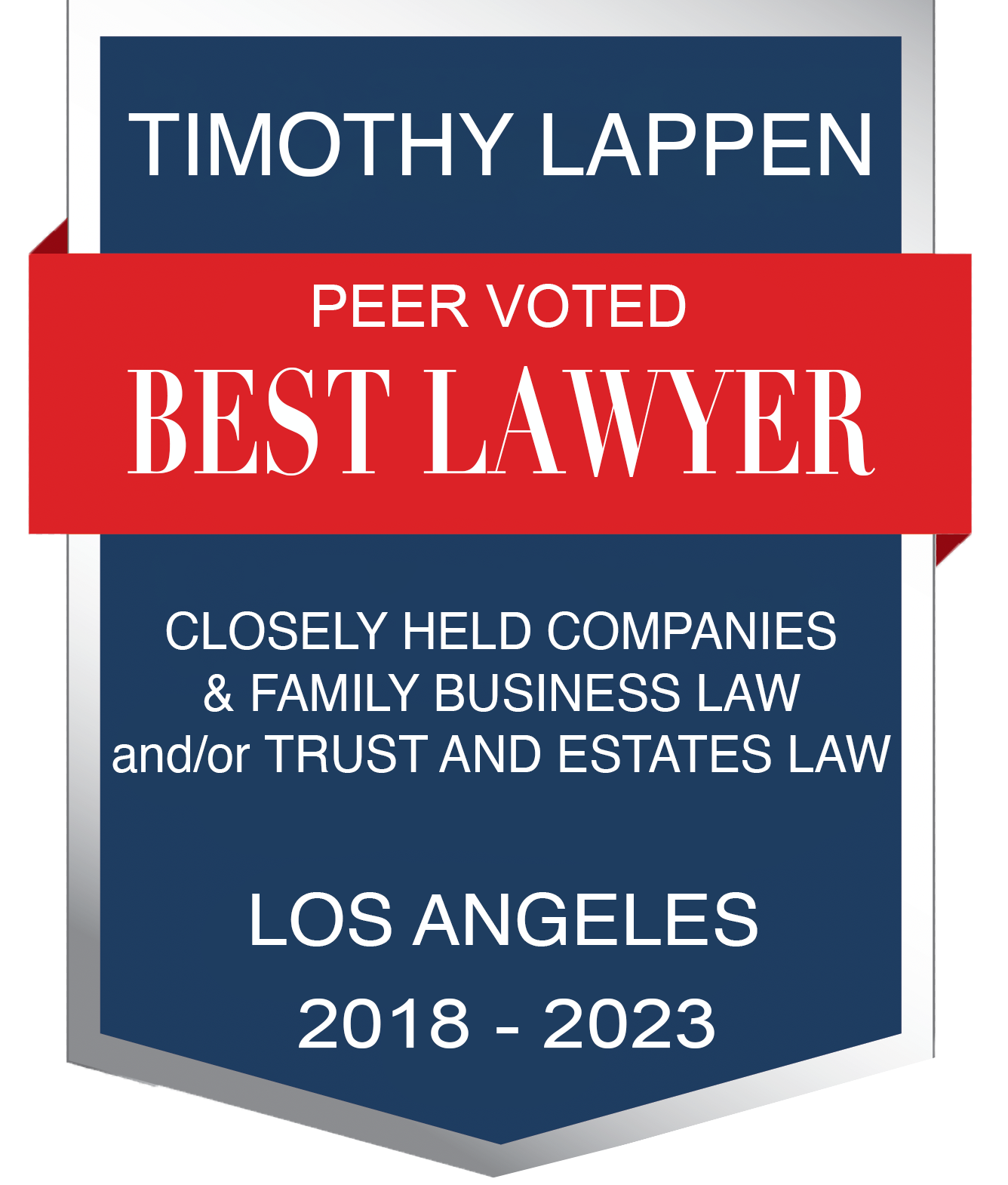 Tim Lappen's practice, spanning more than 45 years, emphasizes representing clients as their
outside general counsel
in virtually any legal matter of importance to them, anywhere in the world. Tim's work involves myriad family office matters, luxury homes, general residential and commercial real estate, entertainment, hospitality, intellectual property, tax, labor, litigation, land use, and more. He also represents entertainers, athletes, and others with regard to a variety of projects, including estate planning, pre- and post-nuptial agreements, philanthropic, and general business advice.
Tim is particularly well-known for his pioneering work with local, United States, and international family offices on such disparate projects as estate planning, purchase and sale of residences, other real estate matters, litigation, labor law (especially household labor-related issues), and personal property acquisitions and dispositions (such as fine art, jewelry, other collectibles, yachts, aircraft, and particularly motor vehicles). In addition, Tim represents anyone who has an interest in a luxury home – buyers, sellers, lessors, lessees, developers, architects, general contractors, lenders, borrowers, and owners who need advice on such disparate matters as contracts, boundary disputes, litigation, land-use and zoning and even labor and employment issues involving the household staff.
Tim's expertise extends to projects involving general business law. He is especially effective in his work with family-owned and other closely-held businesses as he can advise such clients on a wide range of topics. As one of the founding directors of the twice-yearly U.C.L.A. Anderson School Steinbeck Family Business Program, and as one of the directors of the USC Marshall School of Business Family Business Program, he presents often on the matters of particular importance to such clients.
Tim is both the founder and chair of the Firm's Family Office Group and the Firm's Luxury Home Group. He has presented to audiences and also moderated innumerable panels, such as speaking for an unprecedented eight consecutive years at the Milken Institute Global Conference, at the Association for Corporate Growth (ACG), the USC Marshall Family Business Symposium, the Lido Consulting Annual Family Office Investment Symposium, including the Private Family Office Roundtable, and the Family Office Panel Discussion with David Cohen (Karlin Real Estate), David Nazarian (Nimes Capital) and Tony Pritzker (Pritzker Group). He has also presented on panels at Haute Living's Annual Los Angeles Luxury Real Estate Summit with some of the top real estate agents in Southern California: "Power Players Under 40" and "$100 Million Producers", many of whom are seen regularly on the television show Million Dollar Listing Los Angeles. He also has presented on disparate legal issues to senior executives at many major financial services firms, international real estate agencies, and to many others.
Representative Experience
Represents individuals, families, family offices, public companies, and private businesses as their outside general counsel
Represents clients across the entire spectrum of wealth on myriad matters
Represented the largest development in recent Los Angeles history, as well as buyers and sellers of some of the most expensive homes in America
Frequent speaker on Family Office and Luxury Home topics at national events and events sponsored by financial institutions and advisors, business managers, accountants, industry groups and others, both at events for their clients and events for their in-house training
Invited speaker for an unprecedented eight years, Milken Institute Global Conference
Education
J.D., UCLA School of Law
B.A., University of California, Berkeley
Bar Admissions State Bar of California
U.S. District Court, Northern District of California
Supreme Court of California
U.S. Court of Appeals, Northern District of California

Associations
Trustee, UCLA Law School, 1994-1998 (President, 1997-1998)
Founding Director, UCLA Anderson School of Management Steinbeck Family Business Seminar 2013-2016
Visit Steinbeck Family Business Seminar
Director, USC Marshall School of Family Business Program, 2016-2018
Visit USC Marshall Family Business Program
Member, UCLA Chancellor's Associates, 1985-1991
Los Angeles Regional Food Bank, 1988-present
(www.LAFightsHunger.org)
Director and President, Center for Childhood, 1996-present
(www.CenterForChildhood.org)
Founder and Chairman, Lawyers Against Hunger, then Chairman, Advisory Board, 1995-2011
Member, Los Angeles County District Attorney's Executive Advisory Council, 1992-2000
Member, D.A.R.E. California Board of Directors' Executive Committee, 1993-1995
Fine Autos Editor, Haute Living, Haute Time, Haute Residence magazines and Beverly Hills Courier paper and magazine 2012-present
(www.HauteLiving.com) (www.BeverlyHillsCourier.com) (www.LifeInTheFastLane.org)
Member, Checkered Flag 200 Petersen Automotive Museum 2010-present
(www.Petersen.org)
Member, Motor Press Guild, 2013-present
Member, Autowriters Registry
Director and Corporate Secretary, Dee Construction Company, 1975-present
Director and President, Lappen Realty & Investment Corporation, 1987-2000
Director and President, Santa Monica Protective Association, 1981-1990
AYSO Soccer Coach, 1982-1994
Member, Milken Institute Associates, 2005-2013
Member, Los Angeles World Affairs Council, 1992-1995
Member, California Lexington Group, 1992-2000
Advisor, American Academy for Dance and Kindred Arts, 1996-2004
Awards & Recognition
Named by his peers as 2018 Lawyer of the Year for Southern California for Closely Held Companies and Family Businesses law
Named by his peers as 2019 Lawyer of the Year for Southern California for Trusts and Estates law
Named by his peers as 2021 Lawyer of the Year for Southern California for Closely Held Companies and Family Businesses law
Recognized by his peers as one of The Best Lawyers in America® for 2016-2024
Chosen as one of Worth Magazine's "Top 100 Attorneys" in the United States
Voted "Super Lawyer" by his peers for 2005-2023
Martindale-Hubbell Peer Review, AV Rating for virtually his entire career
Invited Speaker, Milken Institute Global Conference, 2005-2012
Invited Speaker, Family Office Wealth Conferences 2004-2009, 2014-2017
Frequent invited speaker at investor groups, family office events, investment advisory firms, and accounting and business management firms
Included in the 2013-2023 editions of the Citywealth Leaders List, a worldwide peer-selected registry

Honored as the only US-based provider of legal services to family offices in the directory of London-based Family Office Recruitment