Richard A. Rogan is the co-chair of JMBM's Bankruptcy Group, which is recognized by U.S. News & World Report / Best Law Firms® with a Metropolitan First-Tier Ranking (San Francisco) for Bankruptcy Litigation and Bankruptcy and Creditor Rights/Insolvency and Reorganization Law. Dick has handled thousands of matters for banks, lenders and neutrals (such as receivers, referees and trustees) involving billions of dollars.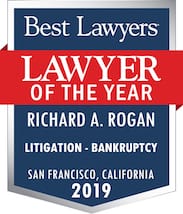 Dick's practice emphasizes financial transactions, real estate, bankruptcy, insolvency, banking, corporate governance, commercial law and trust disputes. His clients include banks, financial institutions, conduit, asset-based and hard money lenders, investors, businesses, developers, hotels, receivers, creditors' committees and trust beneficiaries and trustees. He represents neutrals, such as referees, provisional directors and special trustees. Dick has served as an arbitrator and a mediator in numerous commercial, bankruptcy and real estate disputes, as well as in the dissolution of professional practices, such as law firms.
Dick has significant experience in all phases of commercial and real estate finance, including formal and informal business reorganizations, loan documentation and structuring, banking, including bank operations, defense of claims against banks for fraud, letters of credit and wire transfer disputes, disputes under the Uniform Commercial Code, leasing, bankruptcy, insolvency, guarantees, real and personal property secured transactions, agricultural loans, commercial and real estate litigation, trust litigation, construction finance, mechanics lien disputes, dispute resolution, receiverships, partition actions and referees, and dissolution of business entities, such as partnerships, limited liability companies and corporations.
Representative Experience
Provides strategic planning and counsel to lenders, borrowers and guarantors regarding corporate, real estate and bankruptcy law aspects of major acquisitions, workouts, bankruptcies, restructurings and liquidations
Representation of agent of multi-lender shared commercial and real estate credits at all stages including origination, negotiation, mediation, restructuring prior to and in bankruptcy, and in litigation
Counsel to creditors' committees in major tech company assignments for the benefit of creditors and Chapter 11 cases
Out-of-court restructuring and liquidation of numerous large commercial and real estate credits, including multi-bank, agricultural, revenue bonds, REIT, CMBS and hospitality matters
Counsel to secured lenders in numerous Chapter 11 cases involving a wide range of businesses and real estate projects, including construction lending
Counsel to secured lenders with regard to troubled agricultural loans to dairies, rice growers, tree fruit growers, processors, handlers and row crops
Arbitrator and mediator of commercial, bankruptcy, real estate and professional firm disputes
Broad experience in difficult receiverships, assignments for the benefit of creditors and other out-of-court insolvency matters
Representation of referees, provisional directors and special trustees in dissolution proceedings, litigation and other disputes
Counsel to commercial banks on confidential and delicate credit and operations issues, including defense of claims against banks under the Uniform Commercial Code
Frequent speaker to industry and legal groups on financial services, insolvency, receivership and ADR topics
Successful defense of banks sued for operations issues involving letters of credit and wire transfers
Representation of major lenders in successful landmark appeals involving letters of credit and producer's liens
Successful defense of a lender against a borrower/guarantor seeking to set aside guarantees and deeds of trust on real property securing commercial loans
Successful restructuring and sale of golf and country clubs
Successful collection of accounts receivable for secured lender over California producers' lien law claimant
Successful negotiation of termination of asset-based loan for borrower.
Successful negotiations resulting in full repayment of secured lender in numerous deals
Education
J.D., UC College of the Law, San Francisco (Formerly UC Hastings), 1975
Editorial Review Board, Hastings Law Journal
A.B., Hamilton College, 1972
with honors
Bar Admissions State Bar of California, 1975
U.S. Supreme Court, 1980
U.S. Court of Appeals, Ninth Circuit, 1975
U.S. District Court, Eastern District of California, 1975
U.S. District Court, Northern District of California, 1975
U.S. District Court, Central District of California
U.S. District Court, Southern District of California

Associations
Financial Institutions Committee, State Bar of California, Past Chair (2012-2013), Advisor (current)
San Francisco Bank Attorneys Association, 1975-present
Bay Area Bankruptcy Forum
Director, Bay Area Chapter California Receivers Forum, 2001-2011
Member, Business Law Section, Committee on Business Bankruptcy , American Bar Association
Member, Real Property, Probate and Trust Law Section, American Bar Association
Member, Real Property Section, State Bar of California
Awards & Recognition
Named "Super Lawyer" in the "Northern California Super Lawyers," published by Law & Politics and San Francisco Magazine, 2005-2022
Recognized in Best Lawyers in America®, Bankruptcy, 2011-2023, named 2017 & 2019 Best Lawyers "Lawyer of the Year" in Bankruptcy
Editorial Associate, Hastings Law Journal, 1973-1975
Who's Who in America
Martindale-Hubbell Peer Review, AV Rating
Credentials
Publications & Events
Recognition