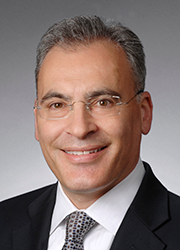 Edward S. Grenville
Partner
Edward Grenville understands transactions from the client's perspective having spent a number of years inhouse as General Counsel of two GE Capital subsidiaries. He partners with clients to define business goals, quantify costs and budgets, and works collaboratively with them to identify and address risks in a broad range of transactions. Having worked closely with inhouse lawyers for many years, he develops practical solutions to problems that meet business goals. In a recent financing transaction, Edward developed alternative legal structures to address the client's concerns specific to various tax and liability issues.
Edward invests the time to understand the client's market segment, the competitive landscape, and the goals and challenges of the main decision makers from both a legal and business perspective. He enjoys visiting clients' facilities and meeting the personnel. Edward's extensive network and functional experts within the firm, e.g. tax, intellectual property, labor and employment, litigation, offers clients a comprehensive and collaborative approach to successfully complete transactions, coordinating as appropriate with the client's functional experts. A recent emerging company client benefited from Edward's various resources to locate funding sources for a potential Series A round.
International clients, for example companies entering the US market from China and Europe, particularly appreciate Edward's cross-border expertise. Over the last 20 years, he has completed billions of dollars in cross-border transactions, and therefore can effectively assist non-US acquirers entering the US market, or US acquirers in foreign acquisitions. He leverages his broad network of non-US lawyers as necessary, and addresses regulatory issues in cross-border transactions, including extraterritorial application of US laws that need to be appropriately considered.
Edward's commitment to excellence is exemplified in his ability to communicate effectively, to operate as a partner in your success, and to develop and execute the roadmap to meet your goals.
Experience
As a business and finance lawyer with more than 20 years' experience, he represents a full range of capital providers as well as public and private companies, including middle market, startup, and emerging growth companies.
Services for Capital Providers
Edward is experienced in representing debt providers including foreign and US banks, private equity funds, hedge funds, equipment leasing and finance companies, and other capital providers. He frequently represents banks and other financial institutions in secured and unsecured lending transactions, bridge loans, mezzanine, and second lien facilities, workouts, and in factoring transactions, including supply chain trade finance transactions.
Additionally, he represents capital providers in a variety of asset-based transactions – including international transactions – such as asset-based loans (ABL), syndications, revolving and term loan facilities, equipment leasing, and acquisitions. He has also represented investors in the acquisition, sale, and management of equipment portfolios.
Edward has also represented private equity firms and other capital providers in acquisitions and minority equity investments.
Equipment Finance, Leasing and Management
Edward brings a deep level of business experience to equipment finance transactions, having previously served as general counsel of two equipment leasing subsidiaries of GE Capital. He has spent a considerable portion of his career representing domestic and foreign parties involved in international equipment finance transactions, and he has represented clients in complex cross-border issues, including obtaining security interests and other credit enhancements in non-US jurisdictions.
His experience includes representing foreign banks, US banks, equipment leasing companies, equipment finance companies, equipment management companies, private equity firms, and other finance companies, in equipment leasing transactions involving true leases and capital leases, syndications of equipment leases, remarketing transactions, equipment management transactions, sales and purchases of equipment lease portfolios, and financing facilities to equipment leasing companies. These transactions cover many asset types, including manufacturing and industrial equipment, equipment used at power plant facilities, intermodal shipping containers, chassis, railcars, and other transportation equipment across a range of industries including technology, transportation, and healthcare.
Corporate and Finance Services for Public and Private Companies
Edward represents public and private companies – including middle market companies and emerging growth companies – in a broad range of corporate and finance transactions including joint ventures, mergers and acquisitions, corporate governance, contractual matters. He also provides day-to-day counseling with respect to operations. For emerging growth companies he assists companies in formation and entity selection matters, early round financings, joint ventures and other strategic transactions, licensing, and exits. He has represented clients across a range of industries including technology, media, and sports.
Representative Experience
Finance
Represented a UK bank in the acquisition of various equipment portfolios in the U.S.
Represented public company in the termination of leveraged leases, equipment sale leaseback transactions, and various other financings of transportation equipment
Represented European multinational in tax, bankruptcy, and corporate matters relating to a refinancing of various plants in the U.S.
Represented a private equity fund in the acquisition of a portfolio of intermodal shipping containers and structured the management arrangements for the assets
Represented one of the leading US independent valuation firms in connection with hedge fund and private equity fund illiquid investments
Represented a leading private equity fund in chassis transportation financing matters
Represented a bank in providing a debt facility to an equipment finance company
Represented bank in providing $50 million revolving credit facility
Represented a leading leasing company in $60 million and $30 million intermodal container equipment lease and financing transactions
Represented a leasing company in a $15 million secured lending and intermodal container equipment leasing transaction
Represented a Fortune 50 financial institution in syndicating equipment leasing transactions to foreign banks
Represented a foreign bank in a residual value guarantee secured financing transaction
Represented one of the largest equipment lessors in connection with various issues related to a financing secured by its equipment leasing portfolio, including hiring local counsel to perfect security interests in various foreign countries
Advised leading equipment lessor on sales and use tax issues relating to securitization
Advised leasing companies and other financial institutions on compliance with US homeland security laws
Represented a leasing company in an intermodal container sale leaseback transaction with a German bank
Represented a German bank in the acquisition of a portfolio of loans in the United States
Represented incubator for British companies starting operations in the U.S.
Represented a US bank in providing a $100 million term loan facility and $50 million revolving loan facility
Represented a UK bank in provision of a warehouse lending facility
Represented an international bank in factoring receivables in a trade finance transaction
Represented company in convertible note capital raise
Reviewed Term Loan documentation for US bank
Corporate
Represented a sports company in startup and early round financing matters
Represented a media company in startup matters and establishing its initial presence in the U.S.
Represented a private European company in restructuring its inter-affiliate management arrangements
Represented a Canadian company in connection with an acquisition in the US
Represented a middle market manufacturing company in the sale of its stock to a strategic acquirer
Represented an equipment leasing company in the sale of its assets to a strategic acquirer
Represented a services company in the sale of its assets to a foreign strategic acquirer
Represented a private equity fund in a financing of manufacturing equipment
Represented a sports company in a minority private equity investment
Represented medical device company in formation and related corporate matters
Education
J.D., University of San Francisco, 1990
B.A., M.A., University of Oxford, 1985
Bar Admissions
State Bar of California
US Court of Appeals for the Ninth Circuit
Associations
State Bar of California, Business Law and International Law sections
American Bar Association, Business Law and International Law sections
Board member, British American Business Council, Northern California Chapter
Association for Corporate Growth (ACG), San Francisco Chapter