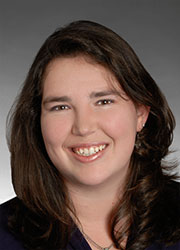 Barbara R. Gomez
Paralegal
BGomez@JMBM.com
Download VCard
Direct: 310.201.3506
Main: 310.203.8080
Fax: 310.712.3353

1900 Avenue of the Stars
7th Floor
Los Angeles, California 90067
Barbara joined the firm in 2010 and is a paralegal in the Taxation and Trusts & Estates Group. Her experience includes estate planning, probate, probate litigation, conservatorships and trust administration. The estates she has handled vary from "Mom and Pop" sized to $100 million or more. Barbara will focus on advances estate planning services.
Education
B.A., English, Roanoke College, 2003
Dean's/Faculty's list most semesters.
Associations
National Notary Association
Sigma Tau Delta Academic Fraternity
Habitat for Humanity
Habitat for Humanity International